Ultimate kayak launch buyers' guide
Getting in and out of your kayak should be a positive (and dry) experience!
What is the best way to access a kayak from your dock? While the paddle bridge technique requires more strength and coordination than many kayakers have, there is a simple solution: a kayak launch.
Read our Kayak Launch Buyer's Guide to learn: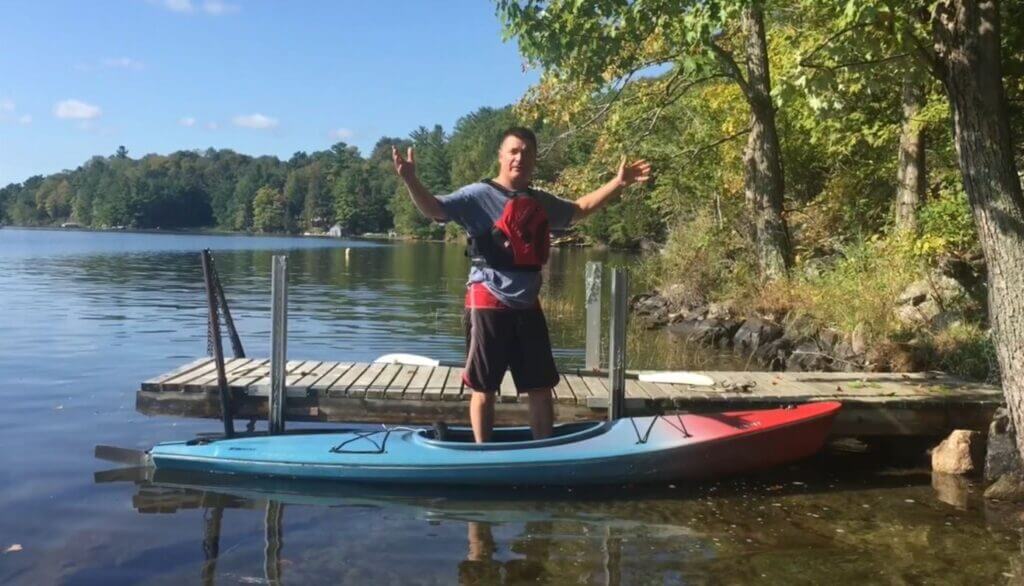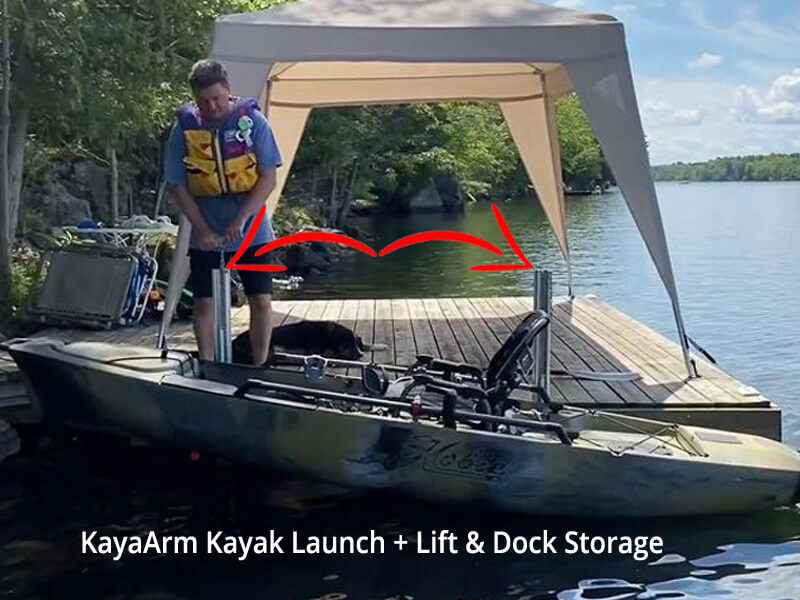 How to choose a kayak launch
These questions will help you find a launch that meets your needs.
Performance
Does the kayak launch provide sufficient stability during entry and exit?
Is it simple to use?
Does it accommodate a wide range of heights (top-of-deck to top-of-water)?
Can you use it to lift your kayak from the water?
Can you use it to store your kayak?
What other types of watercraft can it accommodate (canoes, standup paddleboards, rowing sculls)?
Are the materials of construction compatible with saltwater?
Installation
How easy is it to install the kayak launch?
Is it compatible with your type of dock?
How much dock space does it require? Can you still use the space for other purposes, such as swimming or mooring a boat?
Does it accommodate tidal waters – the water level changes that occur while you are out kayaking?
Is it easy to remove the kayak launch to prevent damage from lake ice or major storms?
Does its appearance devalue your waterfront property?
Will your choice of kayak launch be subject to approval by a homeowner association (HOA) or marina association?
Sales and service
How much does the kayak launch cost?
How soon can it be delivered?
Does it have a money-back guarantee?
What kind of customer support is available?

This kayak launch buyer's guide covers the pros and cons of three types of kayak launches
There are three main types of kayak launches on the market:
the KayaArm (patented)
kayak ramps
kayak lifts
KayaArm – Stable, simple, and cost-effective
The patented KayaArm is currently the top-selling kayak launch in North America. Its simple yet versatile design provides excellent stability at a minimal cost.
The design uses a curved stabilizing arm that rests at the surface of the water and cradles the kayak. The mast allows the arm to be raised and lowered to match the water level. The mast and sliding assembly components are custom aluminum extrusions.
The KayaArm works with kayaks, canoes, standup paddle boards, and pedal boards, and some customers use it with rowing sculls. The KayaArm is made with aircraft-grade aluminum, and all materials are compatible with fresh water and saltwater.
The KayaArm can be installed on any type of dock (fixed height piers, seawalls, floating docks) regardless of dock material (wood, aluminum, metal, concrete, plastic). For most people, it is a DIY installation.
Out of the box, the KayaArm can accommodate heights ranging from 0" to 32" (top-of-dock to top-of-water). A modification allows this range to expand to 0–42", and additional solutions are available for height requirements up to 72".
The KayaArm has additional features:
With the installation of a second KayaArm, you can lift your kayak from the water and store it dockside. To lift and store your kayak, simply pull the chains within the KayaArm masts until the stabilizer arms are supporting your kayak at the desired height. If your kayak is not self-draining, you can easily flip it over to prevent rainwater from accumulating. Leaving your kayak on the raised stabilizer arms keeps your dock free of clutter.
You can easily remove a stabilizing arm by lifting it through the top of its mast, freeing up space for swimming or boat docking. For convenience, the arm is tethered by a chain to the mast.
The tide pully option allows the paddler to raise or lower the stabilizing arm to accommodate changes in water level that occur while out kayaking. This feature can be accessed from the dock or kayak.
The KayaArm has an elegant, minimalist design and is the only approved kayak launch for a number of marinas and homeowner associations (HOAs). It can be added to luxury waterfront homes without detracting from the property value.
The KayaArm is sold by Wirsig Enterprises, a family-owned business that maintains a high level of oversight over the entire operation – from manufacturing to personalized order fulfillment and customer service. The KayaArm is manufactured in Canada at a machine shop that specializes in equipment for the food and pharmaceutical industries.
You can purchase the KayaArm online at KayaArm.com. It currently sells for $329 – the lowest cost among mainstream systems and cheaper than most DIY designs. The KayaArm comes with a money-back guarantee, excluding shipping charges, and is delivered in North America typically within 1–5 business days. The KayaArm website contains product documentation and demo videos, and one-on-one consultations are available for unique installations.
PROS
excellent entry/exit stability at minimal cost
works for a variety of dock types and heights
DIY installation
minimal dock space requirement; not bulky
accommodates other watercraft such as canoes and standup paddleboards
a second KayaArm allows for lift and storage of kayaks
compatible with fresh water and salt water
money-back guarantee, minus shipping charges
good educational support and materials
styling is acceptable to most HOAs and marinas
fast delivery
CONS
does not accommodate motorized watercraft such as Sea-Doos
to prevent ice damage, it should be removed in winter (depending on climate

Kayak Ramp – Stable and familiar
Several companies produce ramp-style kayak launches. This design uses full contact between the kayak and the ramp, which provides excellent stability but requires more upper-body strength during launch and return.
Kayak ramps are typically manufactured from plastic resin and are compatible with both fresh water and saltwater. The ramps are flexible to the tides and will float to accommodate changes in water level.
Since the ramp rests in water, the growth of seaweed can cause a slipping hazard, while barnacles can scratch the kayaks.
Kayak ramps are relatively large and require dedicated space at the side of the dock. Depending on the application, installation can be complicated. It is not practical to temporarily remove the ramp to use this dock space for other purposes.
Kayak ramps are not compatible with fixed docks of any height, and they cannot be used for many types of standup paddleboards due to interference with the fins.
A kayak ramp cannot store a kayak. The paddler must shuttle the kayak between the ramp and the storage location.
Depending on the climate where you live, you may need to remove the ramp from the water to protect it from ice damage. Kayak ramps can also be damaged or lost during hurricanes and major storms.
Some homeowners associations will not approve kayak ramps due to their bulkier, heavier build and their appearance.
A kayak ramp launch costs more than a KayaArm but less than a kayak lift.
PROS
mid price point; more expensive than a KayaArm but cheaper than a kayak lift
good stability
compatible with fresh water and salt water
CONS
requires upper body strength to pull yourself and your kayak up the ramp
marine growth can cause a slipping hazard, and barnacle growth can scrape the kayak
not suitable for high fixed docks and seawalls
bigger space commitment on dock
overall bulk, weight, and aesthetics
recent plastic resin supply issues are affecting cost and delivery times
not at DIY installation for many people
depending on climate, winter removal may be required
no kayak storage capability

Kayak Lifts – Easy to lift your kayak
Kayak lifts are scaled-down versions of boat lifts that were originally designed for yachts. Made from aluminum, the lifts are compatible with both fresh water and saltwater, and they can require routine maintenance. Kayaks can be stored on the lifts.
To install a kayak lift, you need a fixed dock that meets specific requirements for structural support. For this reason, lifts are not compatible with many dock types and typically require professional installation. Once in place, the lift occupies a permanent footprint and, like a kayak ramp, it needs dedicated space on and beside the dock.
The lift height is adjustable from the dock but cannot be adjusted from the kayak to accommodate changes in water level that occur during kayaking.
For stability, the lifts rely on full contact with the kayak hull. Stability is maximum in calm conditions and reduced in choppy conditions.
It is difficult to get a kayak from the dock to the lift without an additional dock extension that includes ropes and rollers.
Kayak lifts are sold and maintained through strong dealer networks, but these networks often prioritize the sales and services related to their larger boat lifts.
Due to the size of the lifts, it may be difficult to obtain approval from your homeowner association or marina.
Kayak lifts are the most expensive solution of all kayak launches on the market and typically cost more than the kayaks they are designed to carry.
PROS
works for large drops
compatible with fresh water and salt water
kayak can be stored on the lift
strong dealer network
CONS
most expensive of all kayak launches
due to support requirements, lifts are incompatible with many dock types
large and permanent dock footprint
cannot make adjustments from kayak to accommodate changes in water level that occur during kayaking
difficult to get kayak from dock to lift
typically requires professional installation
blocks waterfront views; can be difficult to obtain HOA and marina approvals
requires annual maintenance

Although needs vary, most people are looking for a kayak launch that
Is simple to use and provides excellent entry/exit stability at minimal cost
works for a variety of dock types and heights
Simple DIY installation
minimal dock space requirement; not bulky
Expandable to provide lift and dockside storage of kayaks
compatible with fresh water and saltwater
money-back guarantee,
fast delivery
After comparing it with the alternatives, it's easy to see why the patented KayaArm is the top-selling kayak launch in North America.